Abrams Public Health Building
The Collaboratory is located in the Hebert K. Abrams Public Health Center, a Pima County-owned building adjacent to the Banner UA Medical Center-South Campus. The 4-story building includes 189,000 sq. feet of space including on the entry floor a Family Medicine Clinic, WIC Clinic and Diabetes Care Center. The building also provides access to 15 conference rooms that can seat from 12 to 120 occupants. Each has audiovisual and internet capacity, two have telemedicine capacity. Outside the building, there are bike storage lockers available at no charge for occupants. The Collaboratory is located within 7 miles or a 15 minute drive from the UA campus. Free parking is provided to all staff and visitors, and is ample to meet the needs of our participants and staff. In addition, 5 bus routes are located within a quarter mile of the building.
The location of the center is in a high need, underserved area of Tucson whose residents suffer a disproportionate burden of chronic disease. South-side residents have been under-represented in university studies, in part because of difficulty getting to main campus, a reluctance to leave the community, and parking and navigation issues once on campus. The location of the Collaboratory on the Banner UAMC-South Campus supports participation of the Kino area residents in research and education initiatives. Furthermore, the location of the Collaboratory in the Abrams Public Health Center puts clinicians and scientists together (and in close proximity to the hospital) fostering collaborative research and enhanced educational opportunities. This provides access to health care providers to support our recruitment efforts. In addition, the Collaboratory is located in close proximity to community-based settings such the Mulcahy YMCA, El Rio Community Health Center, and Kino Sports Complex (the largest professional sports and entertainment venue of its kind in Pima County hosting professional baseball and soccer leagues) frequented by the Hispanic community in Tucson, AZ.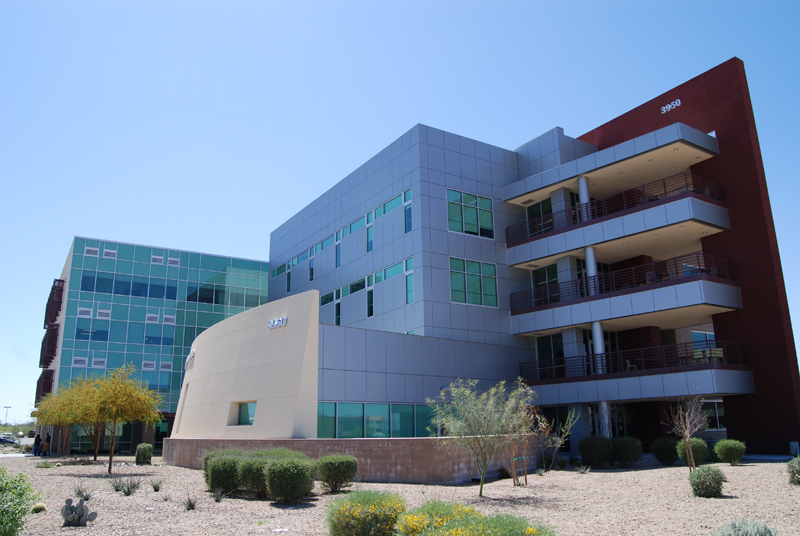 Body Composition Laboratory
The Body Composition Laboratory (BCL) located in the University of Arizona Collaboratory for Metabolic Disease and Treatment provides a full complement of measurement modalities to cover all types of body measurements and body composition assessment. From simple anthropometric measurements to assessment of total body and segmental measurement of bone, fat and lean tissue using state of the art dual-energy X-ray absorptiometry (DXA) technology and peripheral quantitative computed tomography (pQCT).
Height, weight, waist/hip circumference, bone lengths, sagittal diameter
Bioelectrical Impedance Analysis (BIA) using OMRON and INBody analyzers
DXA measurement of total body and segmental bone, fat and lean tissue by GE Lunar iDXA densitometer
Measurement of appendicular bone, fat, and lean by peripheral quantitative computed tomography (pQCT) using STRATEC XCT3000 scanner
Blood Processing Lab
BSL-2 approved laboratory for performing phlebotomy and processing whole blood and other biospecimens.
Centrifuge (2), counter space for pipetting, cabinetry for storage of supplies
-80°C freezer and refrigerator for storage of specimens
Phlebotomy space with requisite chair, table, faucet and sink
Exercise Ergometry Room
A fully equipped exercise laboratory where exercise and stress testing can be performed.
Cosmed CPET metabolic cart      
Cosmed CPET 12-lead ECG                                                                                          
RacerMate Velotron Cycling Ergometer (x3)                                                                                        
Woodway Desmo Treadmill (x2)                                                                       
Free weights and Resistance Machines 
Behavioral Measurement and Interventions Shared Resource
The Behavioral Measurement and Interventions Shared Resource (BMISR) has over 25 years of experience  providing support to local and national researchers studying human lifestyle behaviors related to cancer prevention and control including diet, physical activity, tobacco, quality of life, sun safety and sleep.  The BMISR offers:
A large repository of printable versions of valid and reliable questionnaires for assessing human behaviors
Guidance for investigators seeking to use proprietary instruments
Support for bilingual (English and Spanish) questionnaires and assessments
Expertise in Qualtrics and REDCap platforms
Implementation of online surveys and management of study data collection